The 1988 PEPCON Explosion In Henderson, NV
The PEPCON Explosion occurred Wednesday, May 4, 1988, sometime between 11:30-11:40am, a fire broke out at the Pacific Engineering and Production Company of Nevada (PEPCON) in Henderson, NV.  Fortunately, the area had yet to go through the population explosion the Las Vegas Valley had seen since 1990 (see video below) as casualties and injuries would have been much, much more significant.  As it were, two people died in the explosion which also caused 372 injuries.
The cause of the explosion itself is still officially unknown. The United States Fire Administration (USFA) stated the fire was created by workers welding steel that spread to fiberglass materials and nearby ammonium perchlorate residue.  The United States Department of Labor (USDL) discredited the theory due to eyewitness testimony and scientific burn tests.
Regardless, an estimated $100 Million ($229,666,948.44 in 2021 dollars) in damages occurred and 3,176 residences damaged in a 10-mile radius as a result of the seven total PEPCON explosions that occurred. The largest explosion was believed to be equal to 1.0 Kilotons of TNT and measure 3.5 on the Richter Scale.  The final blast left a crater approximately 200 feet long and 15 feet deep.
According to a NASA Study, The PEPCON Explosion was the largest domestic, non-nuclear explosion in recorded history.
Approximately 4,000 tons of an oxidizer used in solid fuel rocket boosters, ammonium perchlorate, were stored at the facility after PEPCON was allowed to continue to produce the material without any regulations for storage or shipping.  Used in military weapons and the Space Shuttle, the amounts in storage grew as the United States suspended the Space Shuttle missions after the 1986 Challenger explosion.  The largest explosion is estimated to have been the result of 1,500 tons.
Las Vegas Hilton, located on Paradise Road and north of the Convention Center, it was reported windows shattered as a result of the blast.  An early radio report noted an individual was knocked down on the 13th floor.
Cattle Baron's Casino, a newly constructed casino located 2.6 miles north, north-east of the blast had 8 of 12 large windows broken.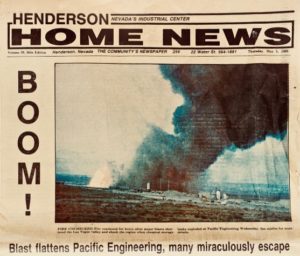 Bertha's Furniture Store, located along the Sahara Expressway and east of Maryland Parkway, about 9.3 miles from the PEPCON Explosion, the furniture store had two of its four large plate glass-windows broken.
Kidd Marshmallow Plant, located just 500 feet from PEPCON, the factory was completely destroyed.
The PEPCON Plant's insurance policy was limited to just $1,000,000.
A case study on the PEPCON Explosion from Homeland Security can be found here.
Looking for more Las Vegas locations and events?  Click here.